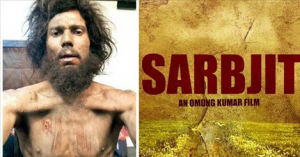 2016 seems to be a year of transformations for the Bollywood Industry. Popular actors like, Aamir Khan has put on 25 kilos for Dangal, Salman Khan is also upsizing for his movie Sultan, but keeping these aside Randeep Hooda is up with the most jaw-dropping makeover which you will witness in 2016.
The actor Randeep Hooda has lost 18 kilos in 28 days to play the slain Indian prisoner Sarabjit Singh, isn't that incredible and unbelievable. Randeep, the 39-year-old actor, will also be seen in 2016's Do Lafzon Ki Kahani. He tweeted his before and after pictures on Twitter where we can see the journey 94 kilos to 66 kilos.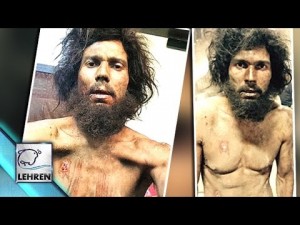 Hooda is known for getting into the skin of a character. The actor Randeep Hooda has this sudden transformation which is certainly not desirable. So with this picture how cool does that figure look to you? Not too cool, right! Hooda has had a sudden transformation for his role in a Omung Kumar's upcoming biopic where he is playing Sarabjit Singh.
Director Omung Kumar, has also won a National award last year, he said "Randeep cut down on his meals, filling up on coffee and water, even when we were shooting in Palghar and gorging on some great food. In his years in jail, Sarabjit was kept in a 4 x 4 room and had rat bites all over him. The first time I met Randeep, I told him that I wanted to see his bones. He took up the challenge and shocked me."
Randeep Hooda on Starvation Diet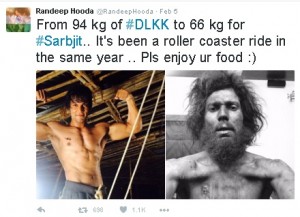 Diet under supervision
To play Sarabjit Singh's character, Randeep Hooda went on a starvation diet, which was closely supervised by his sister and a doctor. This effort and dedication from him deserves a salute, but not at the cost of your health! Pointless to say, the decision of the makers left us totally stunned.
Consequences of this Rapid Weigh loss
According to Dr Pratit Samdani, who is a Consultant, Internal medicine, Jaslok Hospital and Research Centre, the per week desirable limit of weight-loss is about 1 to 2 mgs. In order to lose half a kilo in a week, a person needs to burn 500 extra calories each day for 7 days, which is controllable. However, a rapid weight-loss may not only lead to losing fat but also water and lean muscles.
Ideal way to gain weight
Dr Pratit Samdani also threw light on the ideal way to gain back weight. According to him the right method of gaining weight is quite similar to the way weight was lost. It needs to be slow and steady. For majority of people gaining weight is simple and doable.
Randeep Hooda doesn't recommend sudden weight-loss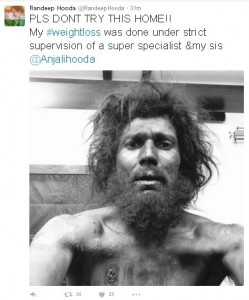 However, the actor opted losing weight rapidly, but doesn't recommend it for all. He says, the body works at its natural pace and pushing hard to achieve short-term goals is not right. Instead, one should opt for a good supervised diet accompanied with exercises and appropriate substitution with vitamins. This will prevent the body from reaching the above mentioned conditions.
Thought Randeep Hooda's weight-loss system might have delivered considerable results for him. But this is not exactly a healthy way of getting rid of the extra weight. When trying to lose weight team it up with a balanced exercise routine and a healthy diet. Remember to replete it with the correct proportions of carbohydrates, proteins, fatty acids, vitamins and minerals. This is the ideal way of losing weight without starving yourself.
Image Source: Image 1, Image 2, Image 3, Image 4 & 5, Featured Image.
Meet the Author