What comes as a major relief to Indian Olympic hopes in Wrestling, Narsingh Yadav has been cleared of the doping charges. The National Anti Doping Agency (NADA) today gave A clean chit to the wrestler and said he was a victim of sabotage.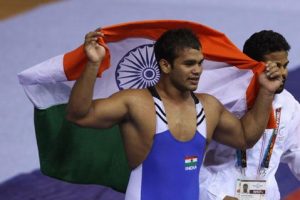 The NADA panel, which was examining the doping fiasco, said no fault, negligence was committed by the Mumbai grappler and perhaps he was cheated by competitor to take the banned drug,
"There is no fault & negligence on Narsingh Yadav's part, he is a victim of sabotage done by a competitor," the panel told media persons here.

Rule 10.4 in WADA's 2016 Code says that 'if an athlete or other person establishes in an individual case that he or she bears no fault or negligence, then the otherwise applicable period of ineligibility shall be eliminated. They will only apply in exceptional circumstances, for example, where an athlete could prove that, despite all due care, he or she was sabotaged by a competitor."
Earlier, in a major embarrassment to the country's wrestling community, the 26-year-old wrestler was tested positive for a banned substance in a random dope test conducted by the National Anti-Doping Agency (NADA) at the Sports Authority of India.
Narsingh had filed an FIR at the Sonepat Police Station naming two fellow wrestlers, one of them a 17-year-old, for having mixed something in his food supplements at the Sports Authority of India (SAI) facility in Sonepat.The NADA panel on Sunday summoned two cooks at the SAI facility on the request of Narsingh's lawyer Vidushpat Singhania.
However, the hopes of Narsingh getting a clean chit were very low after reports emerged that NADA panel was not satisfied with Narsingh's explanation.
Sushil Kumar congratulate Narsingh
Two time Olympic gold medalist Sushil Kumar who was locked in a battle with Narsingh on who would represent India in 74 kg category, welcomed the decision by the NADA panel. The legend expressed support to Narsingh, saying that he was with him throughout the incident.
"In a tweet, Sushil urged Narsingh to win medal for him and the country".
Source : News18 and Dailyexcelsior
Meet the Author