Mysore is a city in the state of Karnataka which has a touch of beauty in everything. It is one of the major destinations that can attract many tourists from all around the world, and its credit goes to its rich cultural heritage and historic importance. This beautiful city has so much to offer, be if outstanding palaces, stunning gardens, lively festivals and exceptional craftsmanship.
If you are planning to visit Mysore in your forthcoming holiday tour, here are the top and most important 10 places to visit, so that you can justify your trip to this beautiful city-
   1. Mysore Palace
This palace is also popular as the Mysore Maharaja Palace. It is one of the largest palaces in the country. Located at the center of the city, this beautiful piece of architectural intelligence was built in the year 1897 by using wood, which was later damaged due to fire. Later, it was reconstructed in the year 1912. The beautiful palace is a true blend of different styles like Hindu, Islam, Gothic and Rajput. The interiors of this palace are absolutely stunning and displays intricate craftsmanship. It is a feast for the eyes when you see it during daytime, however, if you see this palace at night you will surely be completely mesmerized by the sight of the palace, as it is illuminated by over 98000 bulbs.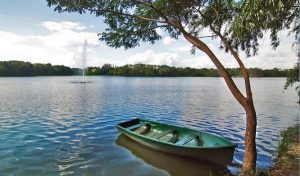 2. Karanji Lake
Located at the foot of the very famous Chamundi Hills, this lake was constructed by the King of Mysore. It is one of the biggest lake in the state of Karnataka spread over 90-acres. This Lake encourages migratory birds and over 90 species of birds can be seen here. Around this lake there is also a picturesque park, which has a huge enclosure for birds, and it is supposed to be the largest of its kind in the country. So it gives you chances to observe the birds very closely.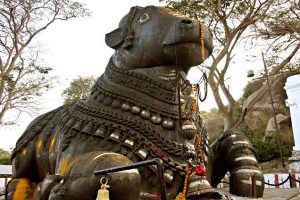 3. Chamundi Hills
This hill is around 1065 meters above the sea level, at the distance of just 3 kms from Mysore. A very old temple which belongs to the 11th century known as the Chamundeshwari temple is located on top of the hill, which was renovated in the year 1827. Half way up on the hill, an idol of Nandi can be seen. The unique thing about this 5-meter tall statue is that it was carved out of one single rock in the year 1659. 1000 steps are needed to be climbed to reach the Chamundeshwari temple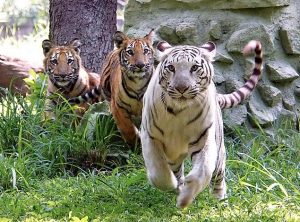 4. Mysore Zoo
Mysore Zoo is also popularly known as Shri Chamarajendra Zoological Gardens offers brilliant experience. One of the oldest zoo in India, which was constructed in the year 1892. Spread across 250 acres of land and houses a stunning range of species. One interesting fact about this zoo is that it not only contains animals of our own country, but it also houses animals from all around the world.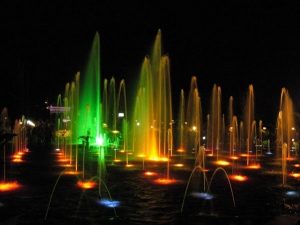 5. Brindavan Gardens
Located below Krishnaraja Sagar dam, construction of which commenced in 1927 and was completed in the year 1932. This beautiful garden is spread across 150 acres of land and is one among the best gardens in the India. It also had a botanical park and many beautiful water fountains of various shapes and sizes. One of the main attractions of this place is the musical fountain. The best time to enjoy the colorful fountains is after sunset.
6. Shivanasamudra Falls
Located at around 85 kms away from Mysore, the Shivanasamudra is an island town which divides Cauvery River into two very beautiful waterfalls. The names of which are Gaganachukki Falls and Bharachukki Falls. Both these waterfalls are rated among top 100 waterfalls in the world. These waterfalls offer outstanding views. Another specialty of Shivanasamudra is that it is the house of Asia's first Hydroelectric Power Station.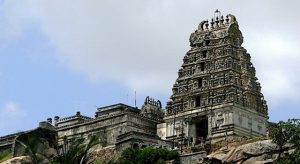 7. Melukote
This town is a pilgrim center located in the Mandya District. It is a very popular place as it has very famous temples encouraging many devotees to visit the place throughout the year. You will get lost in tranquillity as this place offers excellent view. One of the popular temples in Melukote is the Sri Yoganarasimha Swamy temple, which is located on the hilltop. Do try to see the sunrise as it offers a spectacular view from this place.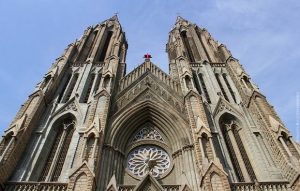 8. St. Philomena's Church
Around 200-year old this place is popular as St. Joseph's Church. Built in Gothic Style, which was originally a small church. But later, Maharaja Krishnaraja Wodeyar IV laid the foundation current St. Philomena's Church. One of the largest Cathedrals in South Asia.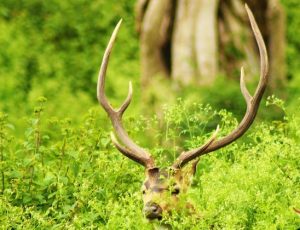 9. Bandipur National Park
Regarded as one of the most beautiful and well -managed national parks in the country. Located between picturesque backdrops of the towering Western Ghat Mountains on the Mysore-Ooty highway. This park covers an area of around 874.2 sq km. This park was once earlier a used hunting reserve only for the Maharaja of the Kingdom of Mysore, but presently it is upgraded to Bandipur Tiger Reserve. It is known for its wildlife and a variety of biomes, but dry deciduous forest is main.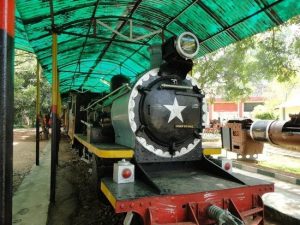 10. Mysore Railway Museum
This Museum located in Mysore is one of the best place for people who are interested in automobiles and history. One of the most famous tourist attractions in Mysore and is an outdoor display of vintage locomotives. Established by the Railway of India in the year1979, it displays an extremely wonderful range of automobiles and railway coaches and dashes the journey of the railways in India. It displays for the visitors, Old locomotives, paintings, photographs, railway signals and lights.
Mysore assures you a relaxed stay as its climate is very pleasant. Apart from these there are other many famous tourist attractions to explore. Other few very famous spots are Srirangapatna, Ranganthittu Bird Sanctuary, Nanjangud, and Somanathapura Temple, they are all worth seeing.
Image Sources: Image 1,Image 2, Image 3, Image 4, Image 5, Image 6, Image 7, Image 8, Image 9, Image 10, Featured Image.
Meet the Author