When you hear the world prison what comes to your mind first? An image similar to what we see in the Bollywood movies right, where there is a dark room, with just one grilled door with a big lock. But here I bring you a totally different image of prisons. What if we give you a blend of luxury and lock up? Trust me, I am not joking. There are few luxurious Prison in the world which offer luxurious living to the prisoners. The facilities which are offered in these prisons are much better than what we have in our bedroom. Take a look at 10 of world's most luxurious prison: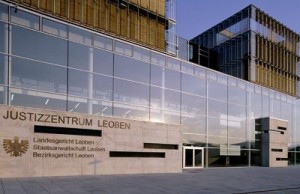 1. Justice Center – Leoben
This prison at Leoben, provides each prisoner with a separate cell. The cell includes a private bathroom, kitchenette and a television. What else is needed to live comfortably? So if you are planning to commit any nonviolent crime, Austria, is the place to go. This prison also includes a weight room, recreation area and a basketball court, so it's packed up with the possibilities to enjoy to the fullest even when locked up.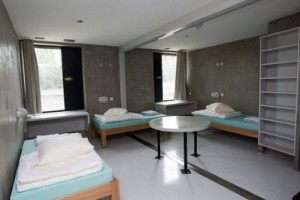 2. Champ-Dollon Prison – Switzerland
This prison is located in Geneva, Switzerland. Earlier it had the typical problems of overcrowding, riots and disease. In 2008, the anti-torture committee of the European Council gave negative reviews about the prison. Then the country devoted around $40 million and gave it a complete makeover. Now there is a whole new wing built up. This wing includes triple occupancy cells for the prisoners along with a bathroom. Now the prison offers good facilities which match up to the level of a 3-star hotel.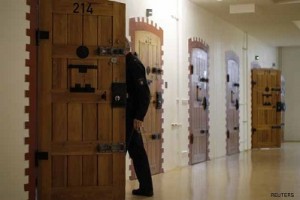 3. JVA Fuhlsbuettel Prison, Germany
This prison is located in Germany; it is mainly for prisoners who are serving long sentences. It is a newly renovated prison, which is looking more like a castle, than a jail. The cells in this jail are very spacious, they also include a living room area, private bathroom and a desk. They also have facilities for washers and dryers which are open for the inmates to independently do their own laundry.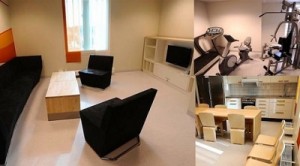 4. Sollentuna Prison – Sweden
Located in Sollentuna, the cells here have comfortable mattresses and a private bathroom. The prison also has a fully loaded gym where they can work out and stay absolutely fit. They can cook up their meals in the state of the art kitchen and get back to their cells and watch TV sitting on comfortable couches. The authorities of this prison have covered every square inch of the prison in the security camera.
5. Bastoy Prison – Norway
Bastoy prison is located in Norway on the Bastoy Island, it is a minimum security prison. It is also world's first ecological prison, which has been awarded the Blanche Major Reconciliation Prize for – Promoting Human Values and Tolerance, in the year 2014. The prisoner's cells here are actually wooden cottages. The inmates work on the prison farm and during their free time they enjoy various activities like horseback riding, tennis, fishing, and cross country skiing.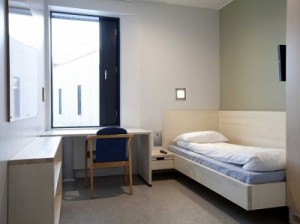 6. Halden Prison, Norway
This is another prison in Norway, which was built in 2010. It has a capacity keeping 252 prisoners. The Norway's prison system is renowned for its focus on human rights and respect. The cells at this prison include a Television, refrigerator, large, unbarred windows, and designer furniture. The guards at this prison are mostly without ant weapons, as guns can create "unnecessary intimidation and social distance."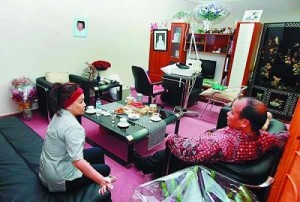 7. Pondok Bambu Prison – Indonesia
Located in Jakarta, Indonesia. It has criminals mostly held for drug related crimes. This is one of the very few prisons who have a methadone clinic, which helps the former drug users get rid of their addiction. The facilities at this prison are quite notable, it includes air conditioner, refrigerator, beading classes, beauty salon and karaoke machine.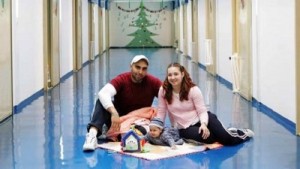 8. Aranjuez Prison, Spain
In America, there are countless numbers of broken homes. This is because either one or both the parents are jailed, leaving the poor kids alone or with a single parent. This prison in Spain has a perfect solution to this problem. How about a family room in a prison? They have something known as the premier prison for families to be together. There are enough toys available for the child to play with and also other children to be friends too. Children do not lose the bond with their parents as they get to spend time with them too.

9. Cebu Prison, Philippines
No matter how luxurious a place is but spending an entire day in the same place gets quite monotonous. The Cebu Provincial Detention and Rehabilitation Centre has addressed this issue very well. The prisoners can join a dance group here. The idea behind this dance program was to give away to the prisoners to exercise regularly. They also started choreographing and posted videos online, this made the inmates internet celebrities.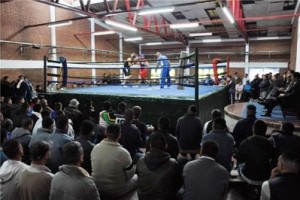 10. Cereso Chetumal Prison, Mexico
We have heard many stories of violence inside the prisons between the inmates. Well this prison in Mexico, found the perfect solution to keep this violence outburst to the minimum. In case there is a clash between the inmates, they are simply given a pair of boxing gloves and put into a ring. After a few rounds the dispute gets over. The inmates create their own art and sell their work to the tourists or other inmates. The prison also has a hotel called "Conjugal", here the incarcerated couples can spend good time together.
So are you wondering what can be the psychology behind making such luxurious prison. Well, this is make the criminals used to this luxurious lifestyle, so that once they out of jail they are a changed person. This will encourage them to live a better life.
Image Sources: Image 1,Image 2, Image 3, Image 4, Image 5, Image 6, Image 7, Image 8, Image 9, Image 10, Featured Image.
Meet the Author