Today was the litmus test of CM Kejriwal's Odd-Even scheme as it marks the first day of 15 day trail ending January 15.
Delhi seems to have given a positive responce to Chief Minister Arvind Kejriwal's Odd-Even scheme of curbing pollution in India's capital city. The much talked about odd-even scheme of Delhi government, got off to a rather superb start on the first day of 2015 with number of cars plying on the city roads coming down significantly.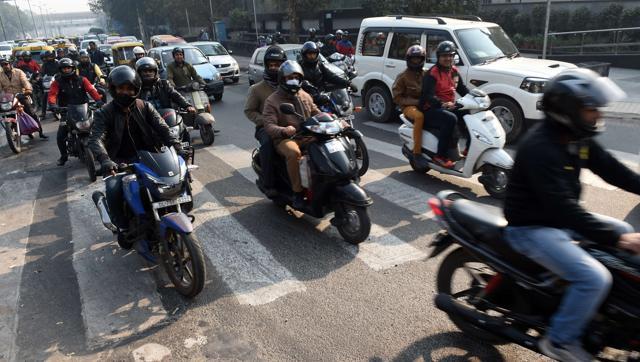 Although there was a heavy deployment of thousands of policemen and volunteers the people of Delhi seems to have supported government 15 day scheme. We bring you some of the highlights from the 1st day of implementation from Delhi.
10. Thousands of Volunteers join traffic police
8AM friday morning, the vehicle restriction policy came into effect. To everybody's surprise, thousands of volunteers carrying roses were there to be seen assisiting traffic police in enforcing the pilot plan that will stay in force till January 15.
9. Heavy deployement of personnels
The city marked, 200 teams of Traffic Police, 66 enforcement teams of transport department and 40 teams of sub-divisional magistrates manning the city raods for successful implementation of the scheme which runs until 8PM on week days.
8. Additional support of Public transport
3,000 more buses have been deployed in the city as part of efforts to augment public transport. The metro will also be running additinal 70 trips to support the scheme.
7. Delhi Minister drives 2 wheeler to office
Kapil Mishra , the Delhi Tourism Minister reached the Secretariat riding his 2-wheeler.
6. Munnabhai on road
Munnabhai's Gandhigiri' was on work at 200 odd locations in the city. Delhi government has deployed around 10,000 volunteers with rose stems in their hands across the national capital to request violators to follow odd-even rules, following the "Gandhigiri" route.
5. First Offender..
The first offender of Odd-Even rule was caught after 33 minutes after the restrictions became operational at 8 am on Friday. The offender was slapped Rs 2,000 fine, while he told the police that he was heading towards his office and there was no convenient transportation.
4. Students join the campaign
"Save Delhi, Save India" said a group of students from Delhi University who cycled to North Campus today in support of the odd-even vehicle plying scheme which kicked off today for a 15-day trial.
3. The regular traffic is missing on Delhi roads
Delhi seems to be breathing easily as the the regular traffic jams, long cue of vehicles are missing from roads.
2. Kejriwal distractors say it is too early to celebrate
Kiran Bedi who lost on BJP ticket to AAP last year said that it's too early to judge as it is an extended weekend with schools closed and many people on holiday.
1. Kejriwal says that scheme has turned into a "Movement"
Ectastic by the overhelming response of the people of Delhi. Chief Minister Arvind Kejriwal said that the pilot initiative of the AAP government has turned "into a movement".
So, for all those people who were skeptical about Odd-Even scheme all these days, its time to say that its not a bad beginning at all!
Image Source : Hindustan Times
Meet the Author