Day by day the controversial Jawaharlal Nehru University issue is taking new twists and turns; for those who could follow the turn of events, here is all what happened!
Event started on February 9
It all started on this day and since then Jawaharlal Nehru University continues to boil. It was the death anniversary of Afzal Guru, the mastermind behind the Parliament attacks in 2004 who was hanged in 2013, and Jammu Kashmir Liberation Front co-founder Maqbool Bhatt.
The debate around Afzal Guru
On 9th February 2016, the ex-members of the student Organization DSU- Democratic Students Union had called for a cultural meeting of a protest against what they called "the judicial killing of Afzal Guru and Maqbool Bhatt". This event was supposed to showcase the protest through poetry, art and music.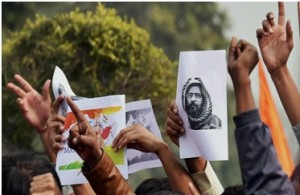 ABVP (Akhil Bharatiya Vidharthi Parishad) protest
The members of Akhil Bharatiya Vidharthi Parishad (ABVP) opposed to the program, and wrote to JNU administration about it, and asking for the withdrawal permission for such program, as it was harmful for the campus atmosphere.
The University Administration
The University administration ordered a disciplinary enquiry, because of clashes didn't allowed event to take place. The administration said the event organisers went ahead without any permission.
Anti-Indian slogans
A purported video from the event shows students shouting anti-national and pro-Pakistan slogans like: "Kashmir ki azadi tak bharat ki azaadi tak, janh rahegi jari".
An Anti-national slogan by the students at Delhi's Jawaharlal Nehru University and it seems to be spreading at other Universities like in Jadavpur University; this entire have made India's a massive political divide which is more pronounced as before.
Student's statements
Students of JNU said that the students who were part of the committee that organised an event to mark death anniversary of Afzal Guru said that none of them were part of the group that was shouting slogans.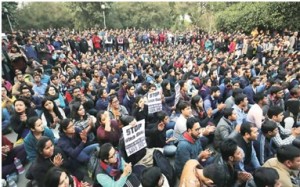 Arrest of Kanhaiya kumar
JNU Students Union President Kanihaiya Kumar was arrested on the sedition charges of anti-national sloganeering. He was under police custody for three days.
Sedition charges
A case of sedition against several unknown students was filed at Vasant kunj north police station. The university also initiated action, against eight students from academic activity, enquiry still pending, though they were is still allowed to stay in hostels as guests.
Police action
After the alleged protest videos get viral, Home Minister Rajnath Singh spoke to the Delhi Police Commissioner B.S. Bassi and said "if anyone raises anti-national slogans, and tires to disturb once country's unity and integrity, will never be spared.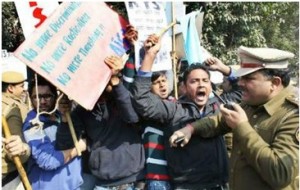 Students protest against arrest of JNU president
Students of JNU said that they will not allowed classes to be held till the released of students union president Kanhaiya kumar.
The teachers of university also protest against the arrest of student's union president and decide not to take classes till their released.
The issue is still going on. The JNU high powered inquiry panel has found JNU students union Kanhaiya kumar to be guilty, and the Delhi court had extended the custody of Kanhaiya kumar for more two days.
Meet the Author