Are you struggling to keep your house mess at bay? Well almost every family has its own struggles with clutter. All of us feel frustrated to see stacks of papers or a cluttered and cramped wash-room.
Feel happy as the struggle is over!
Here are 7 ideas you can use right away and you'll finally be organized –
1. Make home organization "kits."
You can create kits using some clear plastic shoebox-sized containers. These can be used to store all the items needed for one particular task. Like, a shoeshine kit, a bill-paying kit, a medical kit, a make-up kit, and many more. In this way, it will become very easy to find everything you need at one place. You can even use your creativity by designing different kinds of Kits.
2. Dedicated place for keys
We often see that we lose our keys by placing it here and there. Give your keys a dedicated place, preferably near the door. It will become easier for you to pick up or drop whenever you pass by. There are a number of Key y Hangers available in the market in many attractive designs. Use them as they will help you get organized and even contribute to adding some beauty to the corner.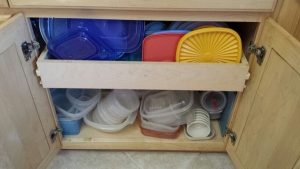 3. Say NO to container shopping
We often think the solution to clear up the mess is to stock up on organizing products like containers. So we head to the nearest superstore buy all types of bins and boxes. But trust me it's a big mistake. Getting organized does not start out with a shopping trip, but instead start shopping for storage items only after you clear some mess. This will help you understand the scope of the problem much better.
4. Dump duplicates
Do you need five non-stick spatulas? Or two is enough? Why do you have six hairbrushes or 20 coffee mugs? Throwing out duplicates is one of the easiest ways to clear clutter. Follow a simple rule – One in, one out. So whenever you get something new, make sure to get rid of something like it that is old.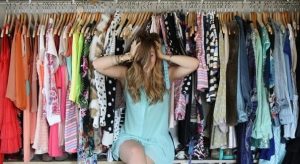 5. Weed out your wardrobe
Mostly we see that our wardrobes are jam-packed mostly with clothes that are rarely worn. Mostly we wear 20% of our clothes and the other 80% are just kept. Sorting your clothes, and your children's, at the end of each season helps a lot to clear the unnecessary jam. Get rid of all garments that don't fit you anymore or maybe is uncomfortable. You of course can't throw them but a letter idea would be to give it off to charity. One bigger mistake that we make is to hold onto things, thinking that you might need them someday, trust me someday never comes.
6. Find a place for every item
The major reason why things pile up on counters, tables, and floors is because they don't have a "home". Always make sure everything in your house has a place to live. Store items in one room where they are used, this helps to ensure they get back to the same place when you're done, and try to store similar items together. Things used frequently should be stored at a place which is easy to access.
7. Desk Drawers
Drawers provide us with additional storage space for things which we would prefer to keep out of view. But the main problem with these drawers is that everything is hidden. It is an easy job to keep putting things there without even thinking. And these drawers turn quickly into clutter buckets. Try to make the best use of these drawers, keep them organized and maintained all time. Dedicate each drawer to one specific type of storage, and to keep things neat use partitions in the drawers.
You should never feel embarrassed about clutter. As the most important thing to remember is that organizing doesn't need to be perfect and good enough. The only thing that is most important is being able to spend quality time with your family and friends. So do try De-cluttering as it helps you to stay organised in the best possible way.
Image Sources: Image 1,Image 2, Image 3, Image 4, Image 5, Image 6, Image 7, Featured Image.
Meet the Author