The ultra-fast internet provider, Google is looking to add new phone service with its internet and TV packages for its Google Fiber users. With this new phone service, Google Fiber subscribers will be able to use one phone number for every device they own, right from smartphones to landlines. And, Google will finally turn into a triple-play provider of voice, data, and television!
Google testing new Google Fiber phone service!
Google Fiber, a subsidiary of Alphabet, provides 'fiber-to-the-premises' service in the USA. It provides broadband internet and cable television services to various locations. It was first launched on 10th February, 2010 with the slogan, 'A different kind of Internet and TV!'
The new phone service closely resembles Google Voice and would operate little similar to that with few of its features attached to it. These features will include voicemail delivered as emails to their inboxes, call screening, spam filtering and do-not-disturb modes.
Currently, Google is inviting only those people who have previously signed up for their Fiber Trusted Tester program. And, if you are lucky enough, you will also get a letter from Google in which they will ask for your interest to join the program. And, if you agree within a week's time; then Google will send a technician to set the service up.
The Google's mail reads that 'If you're selected for this Trusted Tester group, we will be actively seeking your feedback: both good and bad, so that we can improve Fiber Phone once we launch it to all of our customers!'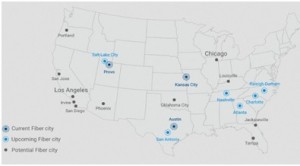 Furthermore, it adds 'Please remember that the Trusted Tester program gives you early access to features which are not yet available to the public, so please help us keep this confidential'.
It's still unclear that which cities will gonna have access to it and also how much it will gonna cost in addition to fiber internet and cable TV. Also, the Google Fiber currently has three tiers which includes a free internet service with 5Mbps downloading speed, a 1GB internet service for $70 a month, and a 1GB service with cable for $130 a month.
Google looks to increase portfolio
Officially, Google Fiber doesn't offer the traditional phone service. However, if Google is ready to roll out this new phone service; then it will become a true triple-play provider by offering voice, data, and television. And, thus with this move, Google will move forward towards its rivals in the cable industry.
Also, it would be much easier for Google to begin offering bundled access to the broadband subscribers of Project Fi, Google's recently launched cellular service, which hops between Sprint, T-Mobile and WiFi.
Meet the Author