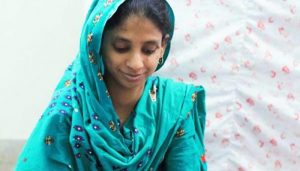 A girl named Geeta, almost 15 years ago, accidently strayed into Lahore, Pakistan after wandering across the heavily-militarized India-Pakistan border. Geeta is a young girl who is speech as well as hearing impaired. Now after she is 23 years now, is returning home after almost a decade, she will get her parent's love which she ever dreamt of.
After been stuck for years in Pakistan without any leads, her life was highlighted few months ago only because of one film that hit worldwide winning many hearts. Few months back in July, a Salman Khan starrer movie, Bajrangi Bhaijaan, was released in India and Pakistan mirroring Geeta's life. The movie narrated a story of a mute and deaf Pakistani girl who wanders across the border to India and is reunited with her relatives with the help of an Indian, played by Superstar Salman Khan. The movie melted many hearts got a tremendous response from people across the globe. Thanks to the movie, Geeta's story came into limelight and government promised to bring her back to India as soon as possible.
Geeta is a huge fan of this movie and has watched it several times. Geeta was lost when she was only seven or eight years old and had been discovered by Pakistani security forces near the border. Due to lack of information and any specified documents, she was handed over to a shelter in Karachi run by the charitable Edhi Foundation. She was living here from then.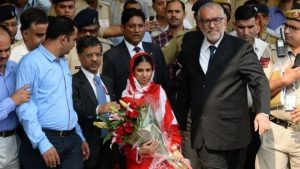 Geeta has now reached New Delhi, India at Delhi Airport at 10:20 AM on Monday by Pakistan International Airlines Flight 272 from Karachi. She is accompanied by five members of the Edhi Foundation which has been fostering her in Pakistan.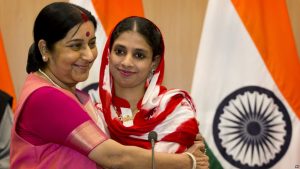 Faisal Edhi, director of Edhi Foundation, said that she had recognized her family via photographs which they received from the Indian High Commission in Pakistan. She will be handed over to her only after the DNA tests are conducted which will confirm all the details about her family. If the tests are not positive then the two institutions, one in the national capital Delhi and another in the central Indian City of Indore, had been shortlisted to host her as soon as all the procedure is done.
Image Source: Image 1 Image 2 Image 3 Image 4 Featured Image
Meet the Author