Google is all set to activate a public alert system which will have Flood Forecasting Network. Flood is one of the most spurt in natural disasters that occurs in India. The Flood Forecasting alerts will be available through searches on Google and Google Now cards. It will also be available on Google Maps, and on the Google Public Alerts. The alert can be accessed on desktop and mobile devices.
Flood Forecasting Network will be live soon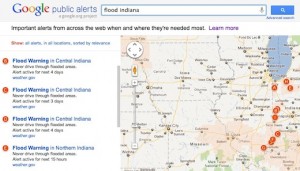 Google says that users in India will find "Flood Alert" system soon. It would also have a valuable information on the water level across 170 areas in India. This information will contain the Central Water Commission (CWC) has active surveillance stations. Floods are one of the most common natural disasters in India. During the monsoon season, affect by floods are more than 30 millions on an average.
Payal Patel, Product Manager of Google stated
"Heavy rains and floods also account for nearly 1700 lives lost annually. Timely information is the first step in disaster awareness. It has the potential to save thousands of lives lost in natural disasters. By making critical information more widely available to people, 'Flood Alerts' will enable citizens across the country to make quicker and more informed decisions".
Flood Forecasting to help save human life and property
Flood Forecasting is an extension of Google's effort to make decisive information more accessible. Users will also get a detail information about the risk, including a map, time-limit and also guidelines on how to stay harmless. However, Google has never let their users down and such kind of alertness is very much required in country like India.
In 2015, Google initiated 'cyclone alerts' to show information about cyclone's in India. It aims to make decisions and provide life-saving information more widely to people around India.
During the recent earthquake in Manipur and floods in Chennai, facebook activated its Safety check. Similarly now, Google with the help of Flood Forecasting Network is letting their users to find more information on natural calamities.
Image Source: Featured Image, Image1
Meet the Author