BBMP better known as Bengaluru Bruhat Mahangara Palike has completed its first phase towards sanitation and e toilets drive in the city. It has installed 75 e-toilets under the initiative of Eram Scientific Solutions, it is a Kerala based innovator.
E Toilets Installed in Bangalore
1. For the record, e toilets are electronically operated toilets, where the insertion of a coin opens the door of the toilet. After the door is opened, the light is switched on and the E-toilets even directs the person with audio commands.
2. The toilets are programmed to flush 1.5 litres of water if it has been used for 3 minutes and 4.5 litres if the usage is longer. e toilets can also be programmed to clean the platform with a complete wash down after every 5 or 10 persons use the toilet.
3. A few mobile applications were also launched on the occasion to make the city's e toilets drive further along with Bengaluru Bruhat Mahangara Palike(BBMP)'s announcement of launching 100 more e-toilets in the city for cleanliness and public convenience in the city.
4. Manjunath Reddy, Mayor had launched the applications on Wednesday and said that they have realized that e toilets have helped us a lot in the sanitation programme. They will take further steps to draw people to use them. He also informed that the corporation is planning to install 100 more e-toilets in the upcoming months.
5. Talking about the importance of the mobile apps, BBMP Commissioner, G Kumar Naik said that the mobile application will help users to locate the nearest e-toilet via map and address listing.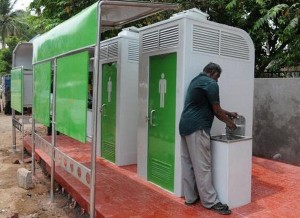 6. It would provide information about napkin vending machines, share user feedbacks and even suggest alternative places. The monitoring app for the corporation officials will collect usage statistics, water condition, facilities available and generate report on usages.
7. Anvar Sadath, CEO of Eram Scientic Solutions said that the e-toilets are making a significant difference in improving the sanitation landscape in India.
8. The system has been running for over a year now and they are happy that the users from all segments of the city have accepted it well.
Image Sources: Image 1 & Featured Image,Image 2,Image 3,Image 4.
Sources: The Times Of India,Quora.
Meet the Author