Undoubtedly at the moment Deepika Padukone is one of the most demanding Bollywood actresses in the Hollywood. If our stars are lucky and aligned in the right order, we must say that a dream come true. Ever wondered our own Bollywood star Deepika Padukone would opposite to one of the famous Hollywood star Brad Pitt in a film. Deepika Padukone, who is currently working with Vin Diesel on her Hollywood debut, might soon be seen opposite to Brad Pitt in a film.
Deepika Padukone is all set to rule Hollywood opposite Brad pitt

Entertainment website
One of the entertainment website named as Pinkvilla recently reported that the Bollywood star Deepika Padukone has signed a film opposite to a starring Brad Pitt. Pinkvilla says an industry insider has revealed the exciting collaboration between the talented and good looking pair. After doing the leading role in Vin Diesel starrer movie xXx: Return of Xander cage, reports from pinkvilla claim that she has signed another film with the other Hollywood star.
Deepika's Twitter Updates
She has been keeping her fans up to date with her Twitter updates: from selfies with her co-stars, and with her first look in the Hollywood debut xXx: Return of Xander cage. We won,t be surprised much if Deepika stay a little longer in Hollywood.
Brad Pitt
Brad has expressed a keen interest in Bollywood: When he visited India in 2012 to promote 'killing Them Softly', he said he would love to work in a Bollywood film as there is so much drama and colours is there in the film.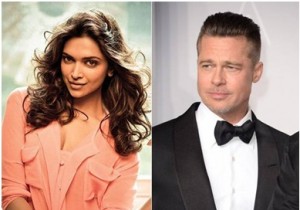 Bollywood exports to Hollywood
Isn't only Deepika other actors also plum doing projects in western country like Priyanka Chopra, Dhanush, Nimrat Kaur, Preeti Desai and Jacqueline Fernandez.
Priyanka Chopra: Debuted with the TV show Quantico and now a star in Hollywood TV show Baywatch.
Dhanush: The actor will soon be seen in Hollywood debut alongside Uma Thurman in filmmaker Marjane Satrapi's film.
Jacqueline Fernandez: Debuts in a British film titled Definition of fear.
Day by day the Indian population is also on a rise, especially in America, so Bollywood stars are more in demand there. Now day bollywood actors are more in demand in Hollywood.
Meet the Author