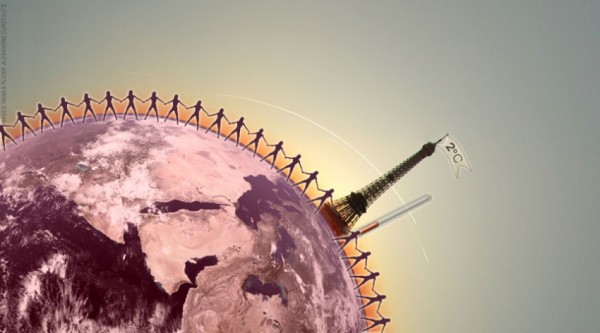 The 2015 United Nations Climate Change Conference, was held in Paris, France from 30 November to 12 December 2015. For the first time in the history, the conference reached its objective. Which is to achieve a universal agreement on the possible ways to reduce climate change in the pact (Paris Agreement). So, What Does a Climate Deal Actually Mean for the World? Check out 8 facts of the Paris Climate Pact
On Saturday a group of 195 nations reached a momentous climate agreement.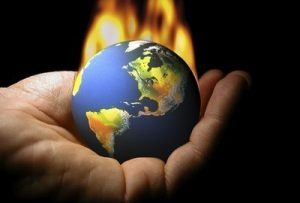 1. Our current position
The world has now reached more than halfway toward exceeding the threshold of 2 degrees. Which was a warning from scientists, as it could make global warming catastrophic and irreversible.
By 2050 around 141,000 deaths could take place annually because of climate change – as estimated by WHO (World Health Organization) and this number is projected to rise to 250,000.
100 million people will be pushed to extreme poverty by 2030 due to Global warming – The World Bank.
Human emissions have imposed a threat on the planet. The Paris climate deal is the first step towards fixing this issue. Ice sheets have started melting, rising sea levels are flooding the coastlines, and few types of extreme weather conditions are growing worse. If the climate deal is a success, some of the consequences of the overheated planet might be avoided or at least slowed. It all depends if the climate deal achieves success in reducing the emissions.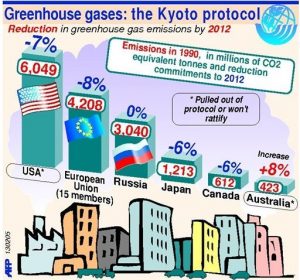 2. Former Conferences
The world leaders were brought to the negotiating tables a number of times before, but earlier they didn't get into any agreement.
In 1990s, with the Kyoto Protocol, the push to address this critical issue of climate change at global level had actually begun. It aimed to decrease greenhouse gas emissions to 5 percent lower than the levels in 1990s. But without the approval of the U.S., among other issues, Kyoto was failed on arrival.
The Copenhagen conference in 2009 was the next attempt. The lead roles were taken this time with the developing powers, like China, India, Brazil and South Africa. But again talks went nowhere substantial.
The Paris Climate change conference had tried to fix this issue by having each country make its individual national pledge, instead of signing up a collectively enforced goal. If the current pledges are fulfilled, it would reduce the growth rate of the world's carbon footprint to 5 percent a year from 8 percent.
3. China
As China is the world's leader in carbon pollution, with a total volume in 2007 and has held the title ever since. China churned out a total of 28 percent of the total world's CO2, in 2013.
China has pledged to reach its peak CO2 emissions by the year 2030, experts predict that China's emissions would naturally peak. Thankfully because of economic and demographic changes.
Another pledge by China is to reduce emissions per unit of GDP, by 60-65 percent by 2030 as compared to 2005 levels, this will help them to essentially becoming much more carbon efficient.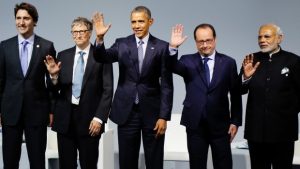 4. U.S.
US is right behind China, which is responsible for 14 percent of global CO2 emissions. But actually on a per capita basis, the U.S. releases much more.
Around 17 metric tons of CO2 is produced each year on average by each American.
America has committed to cut its carbon emissions from current 28 percent to 26 percent by 2025.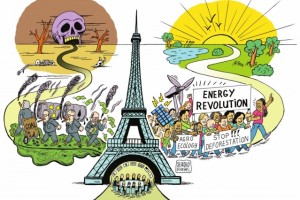 5. E.U.
Europe is responsible for 10 percent of worlds CO2 emissions. It has taken very proactive approach to climate change.
The European leaders have signed a climate change pact, in which they have decided among themselves to cut the E.U.'s greenhouse gases by 40 percent by 2030 as compared to 1990 levels.
If things go on track, they may even be able to reduce its CO2 emissions to 40 percent by 2020, which is 10 years ahead of schedule.
However cracks are showing up among the 28-member union. The new government of Poland is pushing back against the pact, which was signed previously by the government, as they say that the country's coal-dependent economy will have to suffer disproportionately.
6. Transparency
There will be no penalty for countries who miss on their emissions targets. But this climate change agreement has rules which are transparent, which will help to encourage countries achieve their targets as laid down.
However, it was a difficult pieces to agree on, as China is asking for softer requirements for the developing countries. The agreement clearly demands all countries to report on their emissions and their efforts to reduce them. On the other hand, it also allows for some flexibility for developing countries.
7. Money
The agreement mentions that the wealthy countries should continue extend their financial support to the poor countries. Which is to help them to reduce emissions and adapt to the climate change. The agreement also encourages other countries to come in voluntary. Which will pave the way for emerging economies, like China to contribute, even though it does not need them to do so.
8. Loss and damage
The agreement also includes a section which recognizes "loss and damage", which is associated with climate-related disasters. The US long protested to addressing the issue in the climate change agreement, they worried that this would lead to claims of compensation. At the end, this issue was included, with a footnote which specifically stated that loss and damage will not involve liability or compensation.
The Paris agreement begins with a long-term and durable global framework to reduce the global greenhouse gas emissions. And for the first time in the history, all countries have committed to putting forward a successive and ambitious, nationally strong-minded climate targets.
Image Source: Featured Image, Image 1, Image 2, Image 3, Image 4, Image 5.
Meet the Author