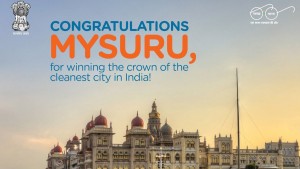 Prime Minister Narendra Modi had launched the Swachh Bharat Abhiyan nearly 18 months ago. And 15th February was the day to announce the results. The Indian government released the list of 73 cleanest cities of India. The Swachh Sarvekshan-2016 has ranked these 73 cities on the basis of cleanliness and sanitation. Cities which were surveyed had a population of 10 lakh or more, the survey was carried out to check how clean or filthy they were.
The result was announced by the Union urban development minister M Venkaiah Naidu. This survey is the second such survey which was carried out as part of the government's flagship Swachh Bharat Mission, to make India clean and open defecation free by the year 2019.
Objective Behind Swachh Sarvekshan-2016
According to a statement issued by the Urban Development Ministry, the objective behind this survey was to measure the scenario regarding sanitation in selected cities. They wanted to know what efforts have been made by these cities to improve sanitation through necessary strategies. Also they wanted to assess the impact of the Swachh Bharat Mission and promote a spirit of healthy competition among all the cities.
Cities were ranked on the components of the Swachh Bharat Mission
These 73 cities were ranked based on their performance on each of the components of Swachh Bharat Mission. Which are solid waste management, construction of individual community and public toilets and sanitation strategies and behaviour change communication.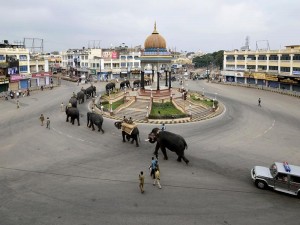 Mysuru Tops the List: India's Cleanest City
At the top spot is Mysuru, who retains its position and becomes India's cleanest city. Even during the last year Mysuru got rank 1, when 476 cities with a population of over 1 lakh each were surveyed.
Top 10 Cleanest Cities in India: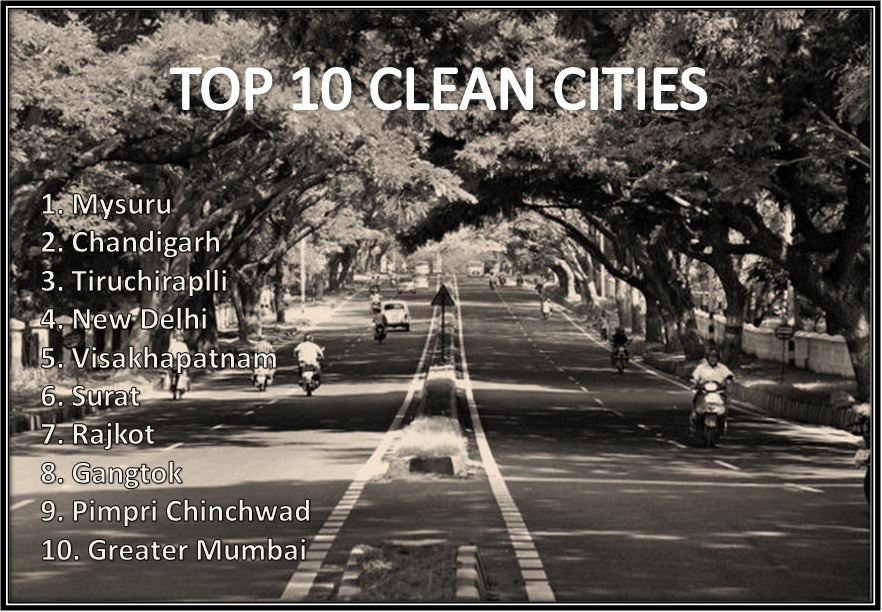 South and West India is Cleaner
The cities in the south and west of India have done better than those in the north and east of India.
Top 10 Filthiest Cities in India: Dhanbad is the filthiest
The "Swachhta Sarvekshan" had covered 73 cities in India which had a population of over one million. Varanasi which is Prime Minister Narendra Modi's constituency was among the bottom ten dirtiest cities.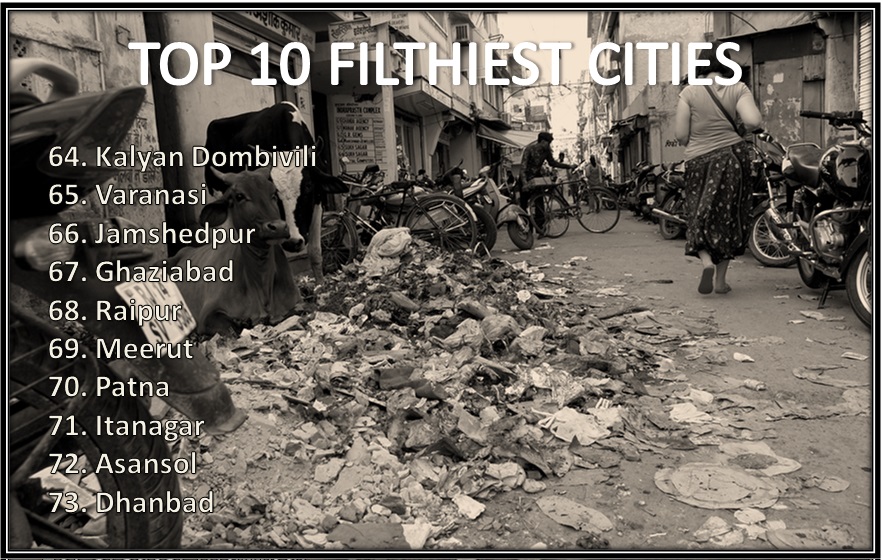 Is India's Capital City Completely Clean?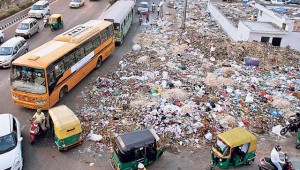 In 2014 October, PM Modi had wielded the broom in Delhi. This was to promote cleanliness as part of his Swachh Bharat Mission (SBM). Sadly, except the NDMC, which is home to the city's VIPs (Ranked at No.4), the rest of Delhi continues to be among India's dirtiest. Delhi has been ranked based on its three municipal corporations. Rankings are:
• East Delhi Municipal Corporation- 52
• North Delhi Municipal Corporation – 43
• South Delhi Municipal Corporation – 39
PM Narendra Modi's constituency Varanasi among dirtiest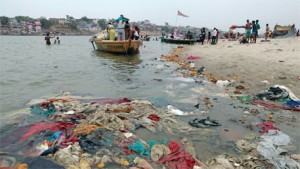 Sadly, PM's message on cleanliness has not made much of an effect in his constituency Varanasi. Since 2014, this holy city had got over Rs 20,000 crore to upgrade its rundown civic infrastructure. But Sadly it ranks at 65 in the list of 73. This is because of its abysmal sanitation facilities.
While some cities have got good rankings and topped the list of Cleanest Cities, many still need to improve and work really hard. According to MoUD, if such surveys happen every year, there will be a great chance to expect even better results and see a really Swach India.
Image Source: Image 1, Image 2, Image 3, Image 4, Image 5, Featured Image.
Meet the Author