Sounds surprising isn't it? But it is unbelievably true that Savji Dholakia an extremely rich Gujarati diamond merchant and proprietor challenged his son to take up odd jobs in any city he was unfamiliar with. Let's know more about this interesting story .
Billionaire Dad's Challenge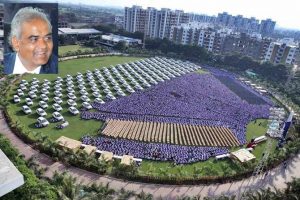 Well this sounds surprising as what we know of Indian parents is that they go absolutely to any level to give their children everything they want and desire, isn't it? But here the story is a bit different, we have a Dad who is a billionaire. Yes, a billionaire, talking about a Surat-based Gujarati diamond merchant and proprietor who owns a company worth Rupees 6000 crores and also has his presence across the globe in 71 countries.
He isn't a bad dad, don't get him wrong! This step was his effort to encourage his only son to live independently, because all this while he led a life which has been lavish or we can say he was born with a silver spoon in this mouth. The challenge was to go to Kochi in Kerala and survive independently for one whole month. He asked him to take up odd jobs and earn his living in an unfamiliar city where he didn't know anyone. To add further to the difficulties of this challenge he persuaded his son to choose a city whose language was also unknown to him. Isn't that really interesting.
Savji Dholakia – The Billionaire Dad And Proprietor Of Hare Krishna Diamond Exports
"I gave him three conditions: I told my son that he needs to work to earn his money and he couldn't work at a place for more than a week; that he can't use his father's identity nor use the mobile phone nor Rs 7,000 taken from home for a month. I wanted him to understand life and how the poor struggle to get a job and money. No university can teach you these life skills except experience"
Savji Dholakia added – "He decided to come to Kochi as he didn't know Malayalam and Hindi is not commonly spoken there".
By the way, very recently Dholakia hit the headlines when his firm gifted cars and flats to their employees as bonus.
Dravya Dholakia – The Audacious Son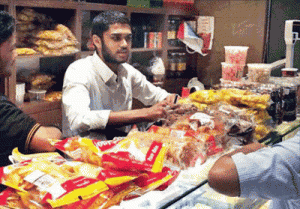 21-Year-Old Currently Doing MBA in US
Yes! Dravya Dholakia is an audacious son as he accepted the challenge given by his dad. Dravya is a 21-year-old who is currently doing MBA in the US. Currently he came on a holiday in India and bravely accepted his dads challenge.
Accepted The Challenge
Dravya has accepted this challenge from Savji Dholakia, and as decided he is in a place which he neither familiar with nor knows the language. It was very difficult for him to search for a job, he said- "For five days I had no job or proper place to stay. I was frustrated as I was rejected at 60 places, as no one knew me here. I understood what is rejection and the value of a job in these few days,"
Reached Kochi Kerala
Dravya reached Kochi on the 21st June with an emergency fund of Rs.7000 and just three pairs of clothes. Well Dravya really knew very little about what was in store for him when he landed here.
Lies To Get Job
Yes, Dravya Dholakia lied to his employers to get a job as he couldn't use his dad's reputation. He told that he is a class XII student who belongs to a poor farmer's family based in Gujarat.
Jobs Taken Up By Dravya
His first job was in a bakery in Cheranelloor. Then he moved to a call centre, a shoe shop and even in McDonalds in Kochi. He is currently earning Rs 4,000 per month. Dravya Said- "I never worried about money and here I was struggling to get one-time meal worth Rs 40. I needed another Rs 250 per day to stay in a lodge,"
Dravya has returned home this Tuesday, and it's a great thing that he completed his dad's challenge which gave him learning's for life.
Image Source: All Images, Featured Image. 
Meet the Author