A new addition has been made on the menu card of the Empire chain of hotels, any guesses what it is? A Bottle of Blood! There are 20 restaurants in the city which operate till late night will and now they will provide blood throughout the day.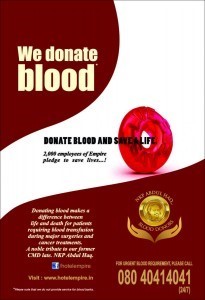 About the Blood Donation Initiative:
• This is a very unique blood donation initiative, started voluntarily by the hotel employees.
• Around 2000 employees of the hotel have voluntarily agreed to participate
• There is a helpline which is open 24/7, which provides food and blood
• Needy people can call the helpline anytime and inquire for the required group of blood.
• The helpline number is 080 – 4041 4041
• The volunteers do not donate the blood any blood banks or respond to any call from the hospitals.
• A consent form is signed by the employee, where it states that the member has voluntarily participated and he\she is not being forced by his employer.
• The same will be emulated in Mysore, Maddur and Dubai branches of the hotel and not just restrict to the Bengaluru city.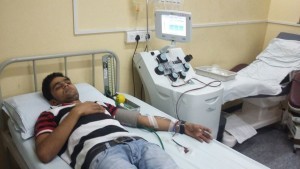 How does this Hotel Blood bank work?
A special software is designed to keep a track of every hotel employee's blood group, the time of blood donation, health condition, beneficiary patient, place of donation and even the current status of the employee.
A 22 employees team of the hotel is helping the needy people to find the required blood group throughout the day.
The Database enables the team to know the requirements of the patients and further send their colleagues from the nearest hotel to donate blood.
Total 2000 employees have agreed to donate blood and they get paid leave on the day when they donated their blood.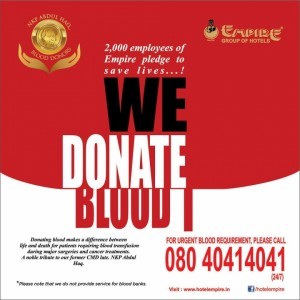 How is the hotel avoiding the risk of the blood going into the wrong hands?
There is a clause that only the patient or patient's party can request for blood and not the hospital.
Junaiz K, the COO and GM of the Empire group of hotels said that, since there is a high chance of the blood going into wrong hands, they make sure that only the patient party can contact them directly and the donor gets to interact directly with the patient before donation. The donor is also assisted by a team of managers.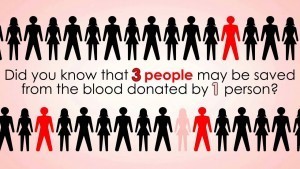 Outcome of the initiative
• 25 patients got benefited from this initiative in just two days after the activity was started.
• Police constables who come on rounds to the hotel have also shown interest in taking part in the activity.
• 30 hotel customers have also joined the donors' list.
This is truly a great initiative by the management and the employees of the welfare of the needy patients. This will motivate a lot of other people to join hands with them as it also ensures that the right patient will get the blood exactly when it is needed.
Image Sources: Image 1, Image 2, Image 3, Image 4, Featured Image.
Meet the Author