Yes, this duo on screen is chemistry is going to be one of the most talked about things in the coming days. In their upcoming movie Baaghi, co-actors Shraddha Kapoor and Tiger Shroff are really gonna showcase some real oomph factor. Recently both the actors unveiled the first look of each other on their respective birthdays as a present. Now they will be seen sharing a steamy kiss on screen.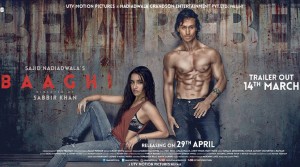 Lip Lock in Baaghi is Shraddha Kapoor's fifth lip-lock in a row
Shraddha Kapoor has never really been seen in revealing outfits nor in any explicit kind of scenes in her movies. But this pretty lady has never shied away from kissing on-screen. This lip lock will be 5th one in a row, other ones were in from movies like AASHIQUI 2 and ABCD 2. Shraddha Kapoor has pulled off these intimate kissing scenes without much hassle we must say.
This time she will be seen once again sharing a lip-lock with her co-star Tiger Shroff in the upcoming film BAAGHI.

Shraddha's Second Lip Lock under the rain
On the sets of Baaghi, Tiger is seen in a black vest, while Shraddha is in a sexy transparent white shirt. This scene might look a bit similar to the kissing in the movie Aashiqui 2. We can say this is the second kiss under the rain for the Shraddha.

Tiger and Shraddha at their best to record this scene
According to the director Sabbir Khan, Shraddha and Tiger are thorough professionals. They gave in their best to record the scene. Sabbir Khan further said, "We shot it sometime last year. Tiger and Shraddha share a great rapport having known each other since their school days and were really comfortable with each other. I noticed the comfort they share during our reading sessions and decided to tap it. They look amazing together." The scene was filmed at Kerela and Thailand . According to Sabbir Khan there was absolutely no awkwardness faced while shooting the scene. He said, "Not at all! They are both thorough professionals. Thanks to the reading sessions, they knew the script well and we had a blast on the sets. They even helped each other during difficult scenes, be it action, dance or emotional ones."

Is Tiger Shroff going to be Bollywood's next serial kisser?
Tiger made his debut for kissing in this very first movie Heropanti, where he was seen locking lips with co actress Kriti Sanon. This makes us wonder is he the Bollywood's next serial kisser? According to director Sabbir Khan "If I know him well, he'll do anything if the script demands it,"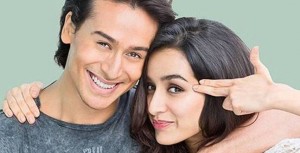 According to news source Tiger and Shraddha share a great rapport with each other. They have known each other since their school days. When it comes to the sets of Baaghi they were really comfortable working with each other. With the first look unveiled we can say that they look amazing together. And the look of this romantic sequence is something that the audience are really looking forward to see.
Image Source: Image 1, Image 2, Image 3, Image 4, Image 5, Featured Image. 
News : ABP LIVE
Meet the Author