In a major breakthrough in cancer treatment that is inspired by the all-time tested properties of turmeric; Rajiv Gandhi Proudyogiki Vishwavidyalaya (RGPV), a state-run varsity in Bhopal has claimed to have discovered anti-cancer molecules that will bring a revolution in fighting the dreaded cancer disease in an effective manner.
Anti-cancer molecules discovered by varsity
Professor Piyush Trivedi, Vice Chancellor and his doctoral student Dr. C. Karthikeyan also announced that the RGPV have applied for a US patent for the discovery of the anti-cancer molecules code namely 'CTR-17 and CTR-20'.
Professor Trivedi further stated, 'Inspired by the healing properties of turmeric that is available in every household and is considered as an effective antiseptic and also given to everyone for treating various ailments, we have studied this deeply for almost 10 long years and then discovered a molecule based on the findings that has magical effects on the treatment of cancer during pre-clinical trials'.
He further added, 'It is novel and unique in the sense that unlike other cancer drugs, which have major side-effects, especially while undergoing chemotherapy. This anti-cancer molecule targets and destroys only the cancerous cells and does not cause any damage to other vital cells of the body'.
Mr. Trivedi said, who is a pharmacist by profession, said 'The research was carried out in collaboration with Dr. Hyoun Lee's team, a team of Canada-based Advanced Medical Research Institute, and an US provisional patent application has been filed officially to protect the intellectual property rights'.
Mr. Karthikeyan, who was associated with the research explained, ' The molecules code named CTR-17 and CTR-20 elicits anti-cancer activity through a mechanism that involves obstruction of cancer cell division by tubulin inhibition, a protein that is important for many cellular functions, including intracellular transport, chromosome segregation during cell division, cell motility, distribution of molecules on cell membranes and maintenance of cell shape'.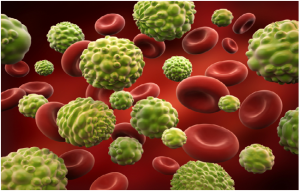 Mr. Trivedi said, 'Besides these two, we have further discovered 22 other molecules and also their pre-clinical trials has produced very encouraging results, and would definitely prove a boon to cancer patients'. The Vice Chancellor said that their RGPV is the only university in the country which has carried out this kind of research that will transform the lives of the cancer patients.
'Studies have also showed in the lab that CTR-17 and CTR-20 has increased the life span of the animals affected with tumour manifold by the inclusion of tumour regression in mice models and without showing any long term adverse effects, including less toxicity'.
Furthermore, the molecules have also showed strong synergistic effects in combination with an anti-cancer drug in clinical use, paclitaxel on multidrug-resistant cells.
Mr. Trivedi said, 'This is a significant discovery especially in the present context where cancer has become the world's dreaded killer disease accounting for massive 8.2 million deaths (around 13% of all deaths) in 2012 as per the World Cancer Report and the scientists embattling cancer are on the lookout for the newer effective and safer drugs for anti-cancer therapy'.
Source: TheHindu
Image Source: Featured
Meet the Author