While travelling we meet all kinds of people, some good while some of them can't help but get on your nerves and give you a headache. 
Let's a look at the most annoying habits of our fellow travellers.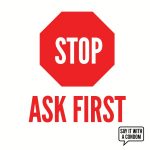 1. The Magazine stealer
Some people lack in following common courtesy of asking permission to take a magazine or newspaper from their fellow passengers. Few of us wouldn't mind sharing but it can be annoying and irritating .How hard it is for people to just ask once before picking up something that doesn't belong to them?
2. Beware little devils all around
Sometimes cutest of kids can be very annoying, as there is a very thin line between cute and irritating. While some kids can fun and delightful, some can be a pain in the head during travelling .Parents also sometimes are so unconcerned, they just don't bother and simply ignore, while their child could be becoming a cause of high blood pressure for others.

3. Trying to entertain others by using Speakers instead of Earphones
Some of our fellow travellers love to watch/listen movies/songs on their laptops without earphones while travelling. It's very irritating to be around such travellers, they are an endless disturbance for everyone. Such habits doesn't entertain anyone but irritate and annoy throughout.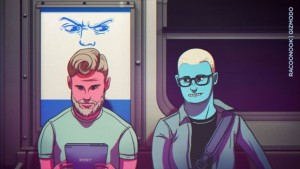 4. Peeping into your phone
I am sure that you would have experienced this irritating habit of few fellow traveller. Each time you would be typing or reading on your phone, the person sitting or standing next to you would be looking into your phone. People just can't mind their own business, they will knowingly keep peeping in other's phone, making the other person uncomfortable.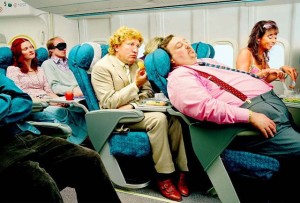 5. Unexpected seat recliners
Very often while travelling on flights there would be a passenger seated in front of you, recline back their seats, all of a sudden. Such people are just not bothered about the person sitting at their back. People should understand that such sudden movement could hurt someone, all should try and be a bit more cautious.
6. Out of control legs
Few passengers constantly hit the seat of their fellow passenger sitting in front of them, well this can be due to less leg space in the flights. But constantly moving your leg can be irritating it can make your fellow traveller build all sorts of images about you. Once or twice is ok, but continuous hitting and pushing can leave the companion passengers upset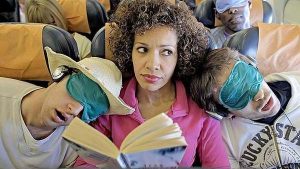 7. Springy heads
It's understood that while sleeping, we cannot control our body movements, but we should be careful enough, because we can land up becoming a complete trouble maker for the person sitting next us. If we sleep while sitting our head many dangle left and right, this can be a very annoying situation person sitting next to you.
8. Chatterbox
Some people can talk non-stop and they love it. Beware if your fellow traveller is one as you may be his/her victim .It's important for such people to know when to stop. As not everyone enjoys listening to their talks all the time.
Travelling is fun for all, but few people may give us really annoying memories. Try not be one of them.
Image Sources: Image 1,Image 2, Image 3, Image 4, Image 5, Image 6, Image 7, Image 8, Featured Image.
Meet the Author