The alien attack of 1996 changed the world forever. While we've become stronger than ever before, its impact is still felt today.
Independence Day (year 1996) has been the most successful alien attack movie in the history of Hollywood. After 20 years, Hollywood director Roland Emmerich is coming again with another epic Alien attack science fiction film name Independence Day: Resurgence. Likewise the previous Independence Day, the new version of the movie depicts a war of independence between the aliens and the mankind.
 Get Prepared for another Technical fest
The science fiction movies of Hollywood are famous for their advanced mesmerizing technologies along with facts behind every technical aspect of the movie. The sci-fi movies of Hollywood get their intuition from NASA and SETI. The institutions help them to acquire and include the glimpse of upcoming possible technologies. Interestingly, watching a sci-fi movie always enthralls the world's audience with triumph and courage.
Budget and Cast
The previous part had cost around $75 million in 1996. The budget of the sequel, Independence Day: Resurgence came around $200 million. No doubt, the later part consists of more riveting techniques and spectacular scenes that will shake up the audience.
Stars from the old movie: Jeff Goldblum (the protagonist), Bill Pullman (the US president), Judd Hirsch (Jeff's father), Vivica A. Fox (Captain Steven's girlfriend) and Brent Spiner (Dr. Brakish Okun).
The New Entries: William Fichtner (General Adams), Liam Hemsworth (Jake Morrison), Jessie Usher, Maika Monroe, Sela Ward, Angelababy, Joey King and Charlotte Gainsbourg.
Will Smith who played as Captain Steven Hiller in the old Independence Day, has been dropped.
Story of the Next Alien Attack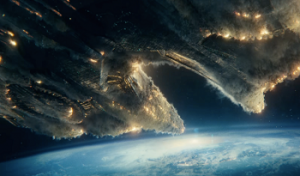 After the 1996 Independence Day battle, the scientists on earth have set up an Earth Space Defense (ESD) for the prior warning of any alien attack on the earth. Likewise, the elite forces and the military have also been created to fight with aliens. In the war of 1996, before destruction, aliens managed to send out distress signals out in the deep space and some aliens went into hiding around the world. Now, the alien culture in deep space receives the signal and sends a more powerful space ship than the previous one (in 1996), to attack on the earth once again.
The earth unitedly fights and sustains.
Release date
The exact release date of the movie is June 24, 2016. The film shooting began on April 2015 and ended on August 2015.
Image source: FeaturedImage1, Image2, Image3
Meet the Author