The Tata Air passenger plane which went missing on Wednesday, was found in a completely burnt state in Solighopte in Myagdi district. The wreckage of the passenger plane with 23 people on board has been found.
Highlights of the Air Disaster in Nepal
1. Aircraft Lost Contact
The Twin Otter aircraft was operated by the private Tara Air. It was on a flight from Pokhara, which is 125 km (80 miles) west of the capital, Kathmandu, to Jomsom when it lost contact with the control tower. According to Tara Air, the Twin Otter aircraft had lost contact with air traffic control just eight minutes after taking off from the popular tourist town of Pokhara in western Nepal early on Wednesday.
2. Missing plane found
The missing aircraft was located in Solighopte in the Myagdi district.
3. Aircraft wreckage found in completely burnt state
According to Aananda Prasad Pokharel, the wreckage of the plane which was found was completely in a burnt state.
4. Aircraft was broken into pieces
According to police officer Bishwaraj Khadka the aircraft was broken into pieces as had no survivors. Among the 23 dead there was a Chinese national and a Kuwaiti citizen.
5. Bodies of the dead seen scattered around the wreckage
Further he added that the bodies of the dead could be seen scattered around the wreckage.
6. Bad Weather conditions resulted in Plane Crash
It is being said that when the plane took off the weather conditions were goodat Jomsom, which is a popular trekking destination in the Himalayas about 20 minutes' flight from Pokhara, which lies 225 kilometres west of Kathmandu. But according to the officials, thick fog had enveloped the Mustang area where Jomsom is located.
7. Air travel is popular in Nepal
Air travel is very common in Nepal as it has only a limited road network. The mountain and hill areas have many particular areas which are accessible only on foot or by air.
Air Disaster are becoming frequent in Nepal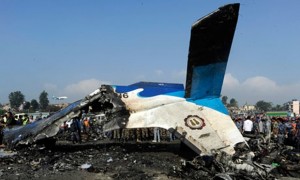 • Nepal is still reeling from the devastating earthquake which occurred last April. It has also suffered a number of air disasters in recent years, which is a reason to for blowing off its tourist industry.
• These Air Disaster is a result of inexperienced pilots, poor management and inadequate maintenance.
• Just two years before, a Twin Otter plane which belonged to the national carrier Nepal Airlines crashed into a hillside, which killed 18 people on board.
• Nepal's aviation sector has come under fire from international authorities. All Nepal airlines were blacklisted by the European Union in 2013.
Tara Air is a subsidiary of Yeti Airlines, which is a privately owned domestic carrier. It was founded in the year 1998 and runs service to many remote destinations across Nepal. In 2010, it suffered its last fatal accident when a plane chartered by a group of Bhutanese tourists crashed into a mountainside in eastern Nepal.
Last year in the month of May, Nepal's last major aviation accident occurred. A US military helicopter which was assisting with earthquake relief crashed due to bad weather, killing six Marines and seven other people.
Image Source: Image 1, Image 2, Image 3, Featured Image.
Meet the Author