The controversy surrounding Aamir Khan seems to be an unending one. But, there are also some unwanted reactions coming in which seems to much more intolerant than what Aamir said. Read On.
After the Bollywood superstar Aamir Khan made the comment on 'Growing Intolerance' one more disgusting reaction is seen, a leader of the Punjab unit of the Shiv Sena is now offering Rs 1 lakh to anyone who slaps Aamir Khan. However, on thursday The Shiv Sena, said that the remark was not the official view of the party.
Punjab Shiv Sena Chief Rajeev Tandon said on Wednesday that he will reward Rs.1 Lakh to any person who could slap Aamir Khan. Further added, such a thing is important because no one living the country should ever dare to say anything against it. Any hotel staff or any personal from the film crew can slap him and take the reward.
The Shiv Sena protesters burnt Aamir Khan's posters and disrupted traffic outside the hotel the actor and his crew were staying during the shooting of the movie Dangal. This reaction came from Tandon post the protest was made outside the 5-star hotel in Ludhiana. However, the Shiv Sena confirmed that it had nothing to do with the comment made in Ludhiana.
The employees of the hotel have been asked to remain extra alert to avoid any doubtful person reaching near Aamir's room.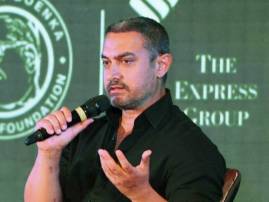 These reaction have been coming post to the statements made my Mr.Khan at an awards event in New Delhi on Monday. Where he of "growing despondency" that he has been feeling in India for the last six to eight months. He also spoke about his conversations with his wife where she suggested to move out of the country.
Many people have been reacting to these statements made my Aamir since then, few people called him thankless, the brands he endorsed are being questioned, few people asked him to go to Pakistan and now this reward.
However, breaking and trying to explain to the world he said that he stands by whatever he said, but he and his wife loves India and they will never move out of it as they do not have any intentions to do so.
High numbers of protesters and the media have been following him after his remarks, hence Aamir Khan's security has been increased by the Punjab Police.
Many Policemen have been positioned at the hotel in Ludhiana and a team of quick reaction team is also keeping a very close watch- said Ludhiana assistant commissioner of police (ACP) Rupinder Kaur Saran.
Certainly, we don't approve the comments made by Shivsena Punjab unit. ComeOn! we don't want to promote violence.
Image Source: Image 1 & Featured Image, Image 2.
Source: Hindustan Times
Meet the Author