Rice is India's staple food isn't it? Indians relish rice for their lunch or dinner. Some even prefer having it for both the time along with dal and Sabji. Rice is a very versatile ingredient, as it can be cooked as an entrée, or a main, or even for a dessert. Rice is love all across India and people enjoy it in diverse forms i.e. biryani and pulao. So let us have a look at some of the most lip-smacking Biriyani and Pulao recipes. Trust me they aren't too difficult to make, just using some spices and mixing it up with some rice can actually give you a dish which actually taste heavenly!
7 Top Mouth-Watering Rice Recipes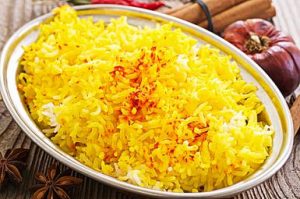 1. Saffron Rice
Saffron Rice is one of the most popular variety of pulao. The most special thing about this variety is its wonderful sweet aroma. Made typically with Basmati rice, which is cooked up in Ghee along with cashew nuts, bay leaf, whole cloves, cinnamon sticks and seeds of cardamom. Saffron rice is known for its special yellowish saffron colour, that comes from the strands of saffron, which is added towards the end just before one puts the lid on for the rice to cook through.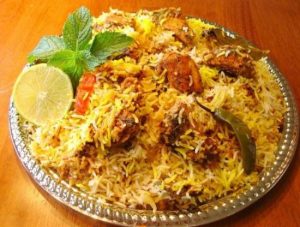 2. Hyderabadi Biryani
Hyderabadi Biryani is the most popular and the most love versions of Biriyani in India. It is typically made in two forms, one is kachay gosht ki biryani and other is dum ki biryani. The ingredient used to make this version of Biriyani is, basmati rice, fried onions, meat, curd, lemon, saffron, spices and coriander leaves. Goat meat is the most preferred meat to make this version of Biriyani. However other variations even include chicken and other meats.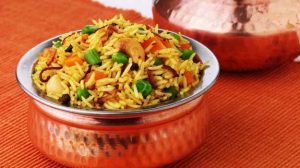 3. Vegetable Biryani
The typical vegetarian version of Biriyani, loaded with different varieties of vegetables. One can add Potato, corn, carrots, peas and cauliflower all are cooked together along with some biryani masala. Post that this cooked veggie is put in a Handi \ Pot and layered with Basmati rice along with fried onions, Saffron and ghee. The pot or handi is then sealed with some wheat dough and let for dum.
4. Kashmiri Pulao
From the land which is also called the Paradise on earth, Kashmir come this aromatic, mild and sweet version of pulao. The Kashmiri Pulao is a traditional pulao from Kashmir which is really easy to make. This is a sweet version of pulao, and the sweetness come from the dry fruits and fresh fruits used in the garnishing of the pulao.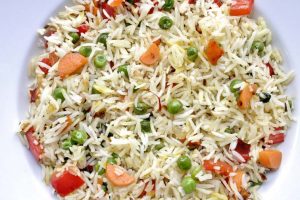 5. Navratan Pulao
Another sweet version of pulao, but this one is extremely colourful. Many colourful fruits go into making this navratan pulao along with exotic spices like bay leafs, cinnamon, cloves, cardamom seeds. Anything which is cooked in ghee is full of flavour, and this one is bang on when it comes to flavours.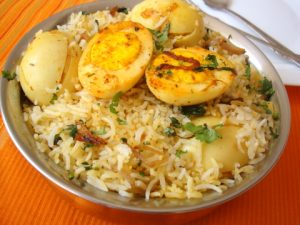 6. Egg Biryani
A typical example of a truly Mughlai dish. Yes the most flavourful Egg biryani just too perfect for those who love eggs, or those who don't like meat but eat eggs. You are going to love the flavours of those long Basmati rice and dense masalas with boiled eggs, Bang On.
7. Dal Pulao
Typically made with some soaked Chana dal which is cooked until tender but still holds shape. This pulao is also cooked up in ghee along with Bay leaves, cumin, peppercorns, cardamom, cloves, cinnamon, onions and green chillies. This is a very healthy version of pulao as it has the power of lentils which makes it a complete meal.
Do try these absolutely amazing rice recipes at home. Making these are too easy and will take just no time, people might actually think you are a great chef, but keep the secret to yourself. All you need is some garam masala, ghee and basmati rice. So when are you inviting us?
Image Source: Image 1, Image 2, Image 3, Image 4, Image 5, Image 6, Image 7, Featured Image. 
Meet the Author