This article is dedicated to all those busy and lazy people who find cooking a tough job. What if I tell you there are some Kitchen Tools or shall I call them real gadgets which can save you a lot of time. Yes, you get me absolutely right there are some awesome kitchen tools available which can be life savers and at the same time save you some of the time which you regularly spend in the kitchen.
Those tough days are gone when we had cutting boards and knives as the only essential tools needed in the kitchen. But in this fast moving era, some amazing kitchen gadgets have arrived which are highly innovative devices. These devices can make the cook's life much easier and at the same time make one love cooking. I feel cooking is something therapeutic, it helps to reduce stress. I understand this might not sound the same to people who stay really busy or are really lazy.
For busy and lazy guys around, here are some gadgets which will surely simplify your work as a cook at least. When I first saw them, the very first thought that came to my mind was that these have been designed specifically for the lazy kinds. Well that's the funny side, here take a look at top 5 kitchen gadgets which will surely make cooking an easy task for you.
Top 5 Kitchen Tools To Make Cooking Easy
1. 5 Bladed Scissors
I found this one on a very popular online shopping website. This product claims to make any type of chopping a quick job. They look very much like normal scissors, but are absolutely different as they have 5 stainless blades. The surprising part is that all the 5 blades work simultaneously, so your job becomes quick. This 5 bladed scissor can be used to cut all types of herbs, spices, nori and scallion. We all know how tedious the task of cutting herbs is isn't it? And with this magical weapon your job will be done in just no time.
2. Garlic Crusher
This one is my favourite, crushing garlic perfectly can be a messy task. And the after effect are even more disappointing as your hand will have that garlicky smell all day. With this magical garlic crusher your life will be really easy. You can crush garlic's easily with just a small press.
3. 360 Degree Rotary Peeler
This is a multi-functional peeler which as three different types of blades. It helps you in grating food in different shapes. As this s a 360-degree rotatable peeler it can work wonder by letting you peel off the skin of any type of fruit and veggies. So be it potatoes, turnips, melons, cucumber or carrots it can peel it all off.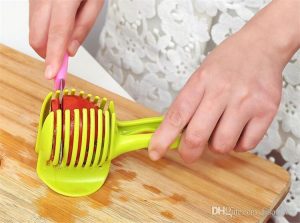 4. Lounged Slice Assistant
Cutting salads is one of those task which requires some chopping expertise. But with this Lounged slice assistant, you can have even shaped slices in just no time. Gone are those days when cutting perfectly round slices of fruits and veggies was a difficult task. Try these comb-like slice assistant and you will get perfect, uniform slices each and every time.
5. Ring Moulds
Making mini uttapams and round shaped half fried eggs has always been a tough task isn't it? But with ring moulds you can have perfectly shaped foods almost always. In fact, these moulds help you make food which look so perfect. So be it perfect round fried eggs, south's uttapam or pankcakes make them all without creating a mess.
6. Hamburger Press
Making those perfectly round hamburger patties has always been a very tough task. Even if we try to do it perfectly the chance of the patties falling apart while frying will always be there. Hamburger Press is a for sure life saver, making patties with the help of these will surely be a hit. All that you need to do it put the patty mixture and apply some pressure with the handle, and tadaa your patties are ready.
We all know cooking involves a lot of skills and tricks too. For people who are always busy and lazy do not find cooking interesting because of some skills which require some time. Many people even turn to having packaged foods as they find it east, but now you don't need to do that. Try these gadgets and start cooking, these kitchen tools will make to make those intricate tasks much easier.
Image Source: Image 1, Image 2, Image 3, Image 4, Image 5, Image 6, Featured Image. 
Meet the Author