Philadelphia also known as, Philly is one of the few cities in the world which has more than 40 million visitors in a year. It really makes a person wonder which are the places which are most visited in the city. Whether you live in Philadelphia or you are visiting here for the first time, in this article I will tell you about 5 places which are definitely worth a go.
5 Places To Check Out In Philadelphia
1.Reading Terminal Market
The first place which comes to my mind when I talk about Philadelphia is the reading terminal market which is located at 12th and Arch street in downtown, Philadelphia. This is a public market which has over a thousand merchants offering fresh product, fish, meat, groceries, artisan cheese, baked good and many other stuff. The market is open on all days except the Pennsylvania Dutch merchants who do not operate from Sunday to Thursday.
2.Independence National Historical Park
Like the park's name suggests, this park is definitely a "historical" park. It is known as the birthplace of American democracy. The park has more than 3.5 million visitors every year. The park preserves many sites which are associated with American revolution and the nation's founding history. It is also known as America's most historical square mile because of the importance of historical landmarks. At the center of the park you will find the Independence hall which is a UNSECO world heritage site.
3.Philadelphia Zoo
Some of you might be wondering so as to why I am mentioning a zoo when I am talking about the best places to visit in Philadelphia. Well this zoo is actually the first zoo to be opened in the United States. It is located in the Centennial District of Philadelphia and is home to 2500+ animals which also comprises of rare and endangered species. It is 17 acres big and has a paddle boat, carousel and many other educative and interactive exhibits.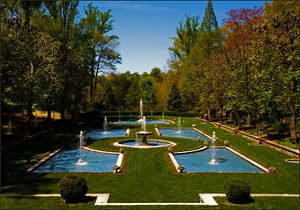 4.Longwood Gardens
Longwood Gardens is a premier horticultural display garden which is over 1,077 acres of woodlands, gardens and meadows. It has more than 1.2 million visitors each year which tells us about the popularity which the garden enjoys in the state. It is located in Kennett Square, and also hosts holiday arrangements and special displays throughout the year. It has 40 indoor and outdoor gardens with many exotic plants.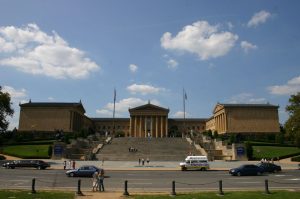 5.Philadelphia Museum of Art
This is one place which you just can't afford to miss. I am sure you have seen or heard about this museum at least once in your lifetime. Remember, Sylvester Stallone's movie series, "Rocky"? Yes, it is the stairs of this museum which he used to climb at the end of his morning training. The stairs have been nick named "Rocky Steps" which draws a lot of tourists throughout the year. Around 650,000 visitors visit this place every year. Rocky had it sixth sequel, "Creed" released last year; make sure you check it out if you do not know about the "Rocky steps" which I told you about.
So, these are 5 places which you should definitely visit on your next trip to this great city.
Image Sources: Image 1, Image 2, Image 3, Image 4, Image 5 & Featured Image.
Meet the Author