It's been just a week since the 9/11 terrorist attack completed 15 years. Like we all know it was one of the darkest days in the history of mankind and particularly America. Thousands of people were killed in the incident and people have been mourning and praying that nothing like that happens again in the history of America. But it seems like that hope has just been destroyed by some cruel people. A powerful explosion just killed 29 people in New York's popular neighborhood Chelsea. In this article we will tell you all we know about the disaster: –
29 Killed In Explosion At New York: All That We Know
1.The explosion took place at about 8.30 pm at 133 West, 23rd street between sixth and seventh avenue; A neighborhood which is very famous for its night life. The city officials said that the police had located the explosive device next to a trash bin. The fire department of the city have stated that none of the victims had life threatening injuries but were critically injured by glass, metal fragments and shrapnel.
2.There was another device which is believed to be a pressure cooker was found on 27th Street, West; four blocks away from the initial blast. The New York police department tweeted this at about 2.24 am ET that the suspicious device at 27 West street was safety removed by the bomb squad.
3.I am sure you must be wondering about what caused the attack. Well, James O'Neill who happens to the New York police commissioner said that the reason of the explosion remains unknown. The police had stated natural gas the culprit.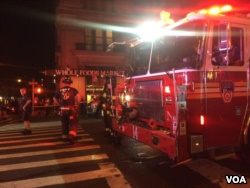 4.New York government Andrew Cuomo had said that the investigators have not found any connection to terrorist groups and there is no further immediate threat to the city. Bill de Blasio who happens to be the New York mayor called it an intentional act but also said that the city had received no specific and credible threat from any terror organization.
5.De Blasio also said that the investigators have not yet found any connection to an incident earlier Saturday in Seaside Heights where a bomb had exploded near a marine charity run. In that case the device was placed in a garbage can and no injuries were reported.
Image Sources: Image 1 & featured Image, Image 2, Image 3.
Meet the Author